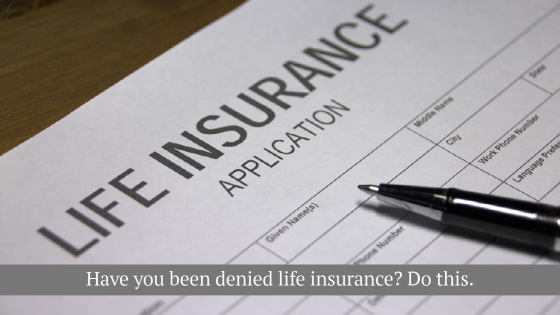 Have you been denied life insurance? Do this.
It's always tough when you applied for life insurance and get denied, particularly if you were anticipating a yes. The company with which you applied may have determined you are in the "impaired risk market," which implies you have something in your experience that makes you a higher danger for kicking the bucket early—think things like health issues, weight, prior diagnoses like cancer or heart issues, and reckless behavior can put you in this unfortunate category.
Many people have this type of history when applying for life insurance and usually understand it may be a bit more difficult to obtain life insurance, but a denial can still be tough to take. The good news is, it is not over yet and you do have some options.
Here some simple steps you can take if you have been denied life insurance protection.


1. Obtain information-

Once you are declined by an insurance company, request the details from them that support the denial. This can include anything from medical history, driving record, or even exam results if you had one during the application process.



2. Double-check-

Because humans are checking your application and history, mistakes can happen. Make sure that all the information given to the company by you, and anyone else they requested information from, is accurate. This can especially be true if you have the same name as someone else in your family. Also, make sure the records you have are the same as what they are given.



3. Choose an agent-

Regardless of the amount of research you might do, you might miss a company that is better suited for your situation. Working with an independent agent can open doors that you might not have access to. Besides, each life insurance company is going to have different rules for their underwriting process, so even if you are denied there could still be a company out there for you.

Rumbaugh Insurance is ready to help you look for life insurance no matter what your history is. Give us a call today and let's discuss your situation and see how we can assist you.