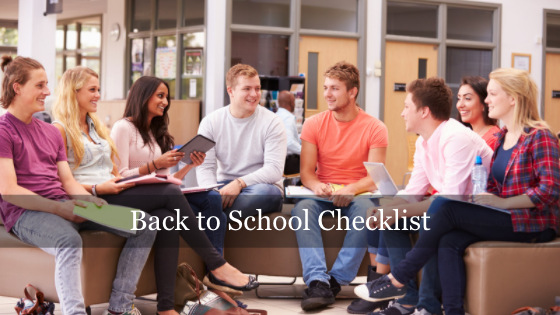 Back to School Checklist
Sweet summer is officially over, the kids are back to school, and our college-aged students are finally heading back to campus after a year of online learning. Here we have created a list of tasks for students, whether they're incoming freshmen or seasoned seniors, to start the new year on the right foot.
Review Your Class Schedule
Take a look at your classes, figure out what materials you need, and locate your classrooms. Nothing's worse than showing up late to class on the first day because you got lost on campus. Check the time of your classes so they don't overlap with work or other responsibilities. Sometimes departments will close classes because they didn't have enough students sign up, or you may have been added to a class you were initially wait-listed for. Don't wait until the first day of classes to review your schedule!
Find Out When to Expect Financial Aid Distributions
If you are waiting until financial aid is disbursed to purchase your class materials, you will want to check on the date of distributions as soon as possible. Professors sometimes have "textbook quizzes" and if you don't have your textbooks yet, you could fail the first assignment. Most professors understand students need their financial aid in order to buy textbooks and other materials, but make sure you communicate with them about it. If you have any questions about financial aid assistance, check out the financial aid office located on your campus.
Buy or Rent Your Textbooks
Get your textbooks as soon as possible! The day you receive your syllabus, run - don't walk - to the campus bookstore. Used books sell out quickly, leaving you with the more expensive option of buying a brand new textbook. There are websites like Amazon and Chegg where you can order textbooks online. However, buying in person is sometimes better so you can be sure you're getting exactly what you need. Bookstores also usually give you the option to "rent" your textbooks for a cheaper price.
Check In with Your Roommates
College can be a lonely place without friends to lean on during your transition. Get to know your roommates. Whether you already know them or not, ask them what they are bringing to the dorm room or apartment so there aren't multiples. Trust us when we say space can get tight!
Fill Out Your Planner
Once you have your syllabus for each class, it's smart to write down all your due dates in a planner. Include your class times, project deadlines, work shifts, and any other special occasions that are noteworthy. Planners make life easier and it's always nice to visualize what your week (and semester) will look like.
Let Your Insurance Agent Know If You Took Your Car
Many colleges and universities don't allow freshmen to bring their vehicles to school, but if you are an upperclassman, be sure to let your insurance agent know if you are taking your car to school. There is potential for cheaper car insurance if your agent knows that you are taking your car hundreds of miles away and won't be driving it for nine months. Additionally, there are discounts on insurance for college students with good grades!
In college, we know you're balling on a budget. It is in our best interest to give students a rate that is affordable with great coverage for the unfortunate events that they could encounter. We partner with many carriers to give our clients the best options at the best price. Best of luck this year to all of our college-aged clients here at Rumbaugh!